Unleash Your Inner Artist with These Inspiring Rose Tattoo Designs
19 Dec, 2022
Unleash Your Inner Artist with These Inspiring Rose Tattoo Designs
Rose tattoos have been popular since the 1930s. Sailors used to tattoo them to represent their lover, wife, or mother back then. Roses began to signify love and femininity as a result of their affinity with women, swiftly becoming a traditional ink design option.
Today, roses form a beautiful (and timeless) tattoo, popular in body art because they are rich in symbolism. They can be done in many styles, designs, colors, and with additional elements to look very unique.
If you want some inspiration about your next rose tattoo, this blog is for you.
5 Tips For Getting A Rose Tattoo
* If this is your first tattoo, a smaller rose tattoo will be easier and less painful for you.
* Take your time to decide on your tattoo style, color, and area. Don't rush it.
* To avoid unfavorable outcomes, always have your tattoo done by a qualified tattoo artist.
* Follow all post-tattoo instructions exactly.
* Combine your rose tattoo with other elements such as animals or hearts to make it more appealing and unique.
20 Rose Tattoo Ideas & Meanings
#1 Rose Skull Tattoo
Associations of the skull and rose open the door to deeper meanings such as the death of a loved one, the defeat of an addiction, change, a transition, or a rebirth...
The combination of the two allows the wearer to commemorate a loved one. The skull may represent death, but the rose gives beauty to the life lived. The rose might also represent the memories they left behind, while the skull represents their demise.
The rose and skull are frequently associated with life and death, beauty and repulsiveness, or the conflict between good and evil.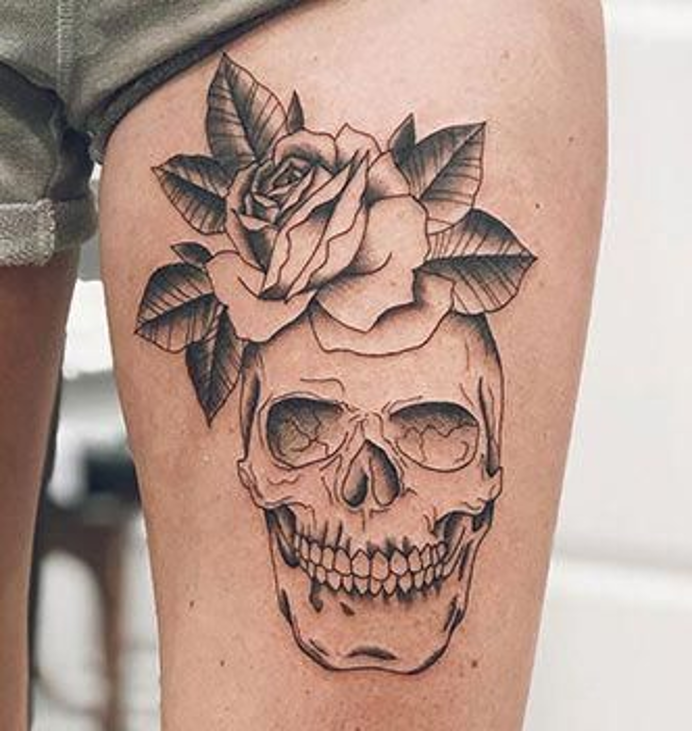 #2 Rose Cross Tattoo
The rose and the cross are components or symbols that have connotations in the religion of Christianity, as well as its heritage and culture. A rose symbolizes purity, love, martyrdom, joy, and so forth, and what's a better way to show your deep Christian faith than with a rose cross tattoo?
Such a tattoo demonstrates how devoted and committed you are to your beliefs. A rose cross tattoo demonstrates your spirituality as well as how cool and creative you are even when it comes to religion.
Try combining these lovely flowers and their cross to make the image less painful and more pleasant. The combination of roses and a cross is commonly found in tattoo designs, and Christians enjoy using it to express their religious values and beauty.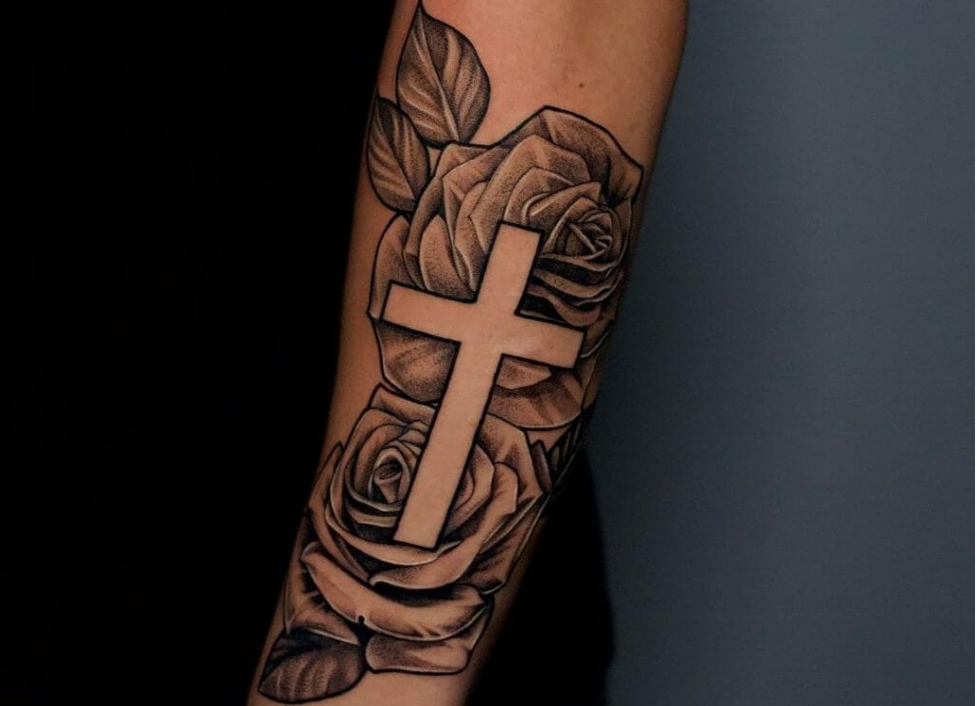 #3 Rose Anchor Tattoo
Sailors made a lot of these tattoos to commemorate the people and the memories they experienced on different trips.
The addition of the rose to the anchor tattoo symbolizes loyalty, honor, sacrifice, and love, and will have a significant impact on the design's significance and meaning.
The flower represents a strong unconditional love for a deceased person or a newborn child. Still, by adding an anchor tattoo, you represent additional compassion, joy, and a strong bond or attachment...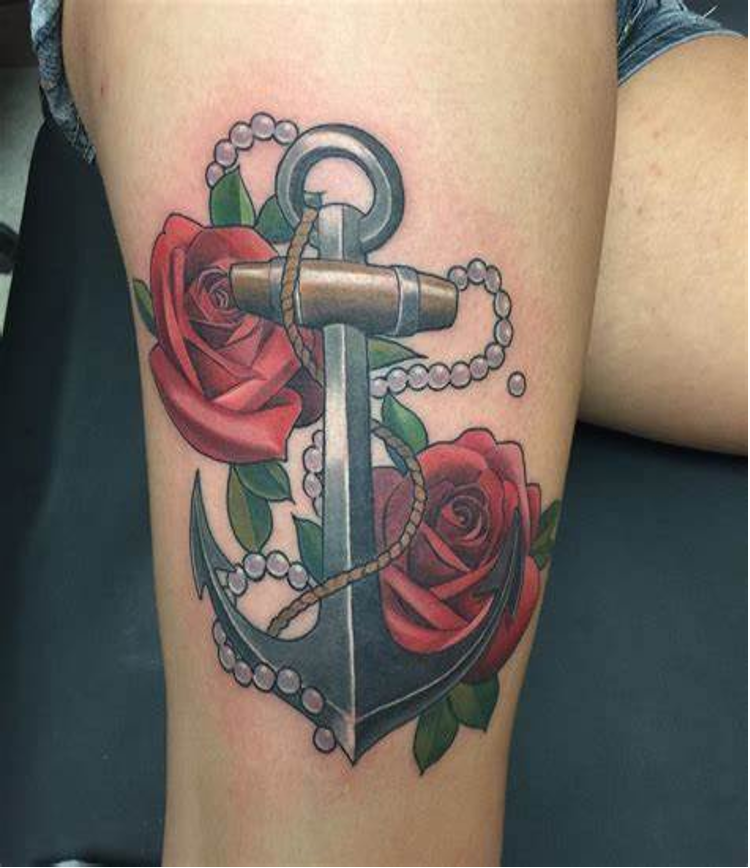 #4 Rose Butterfly Tattoo
Women adore flowers and butterflies. The flower denotes female tenderness and beauty, while the butterfly depicts female attractiveness and freedom. A rose and butterfly tattoo is a hybrid of a flower and a butterfly. That is, it is a combination of liberty and beauty. This tattoo represents feminism. The meaning of this tattoo is beauty, love, or freedom from love.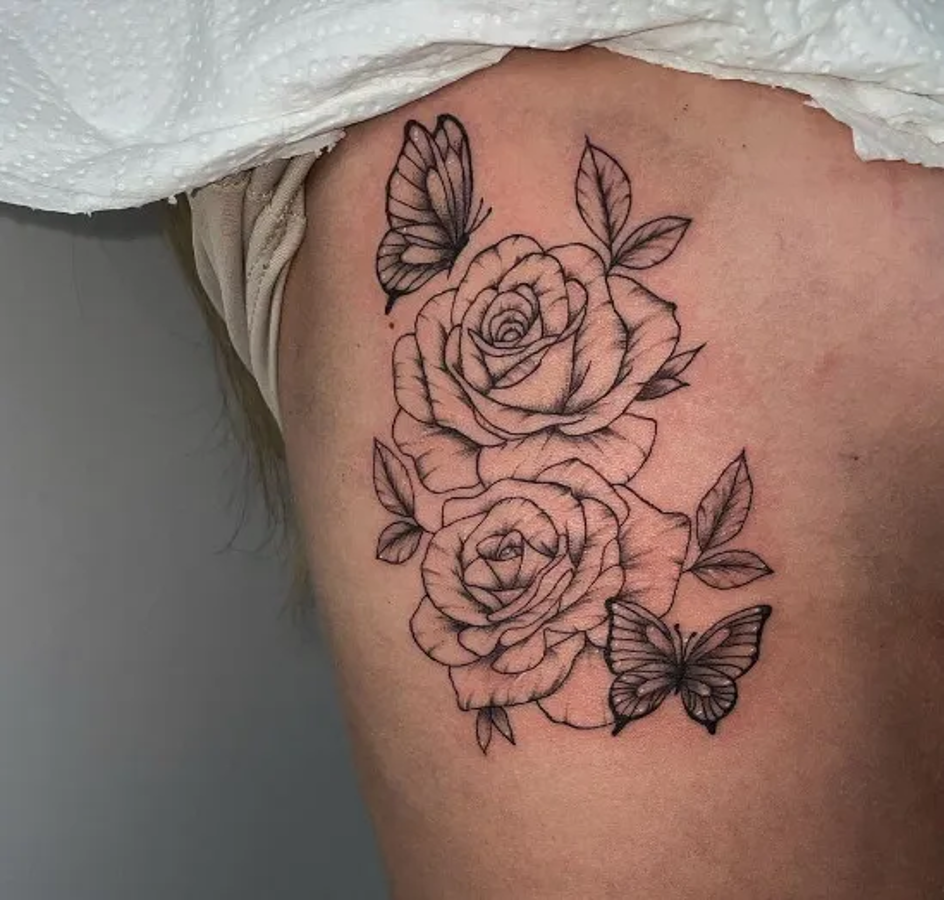 #5 Rose Owl Tattoo
When a rose blossom is coupled with an owl tattoo, the rose petals are frequently represented to be falling off. This depicts the loss of a loved one, with the owl following the individual to the great beyond. These tattoos are typically inked by people who have either had a close encounter with death or have lost a loved one.
But some people tend to get this mixed tattoo simply for their love of owls and tattoos.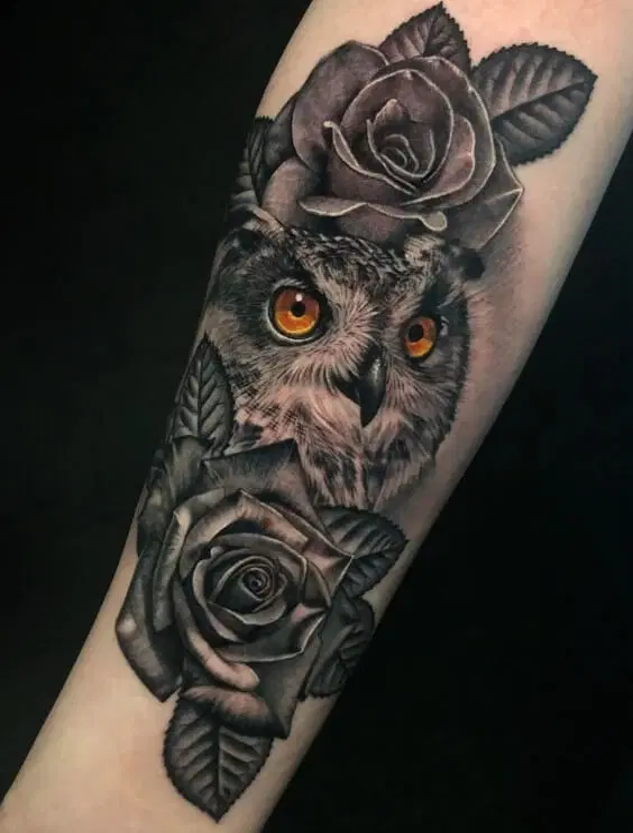 #6 Rose Wolves Tattoo
Wolf with rose tattoos suit a range of various styles and can portray two aspects of your personality - one strong and independent and the other sensitive and affectionate.
The rose tattoo design, when combined with the wolf, is a classic emblem of passionate love. A wolf tattoo with flowers might even symbolize your love of nature. In short, a wolf tattoo and a rose tattoo combine the wolf's fierceness and courage with the rose's tenderness and grief.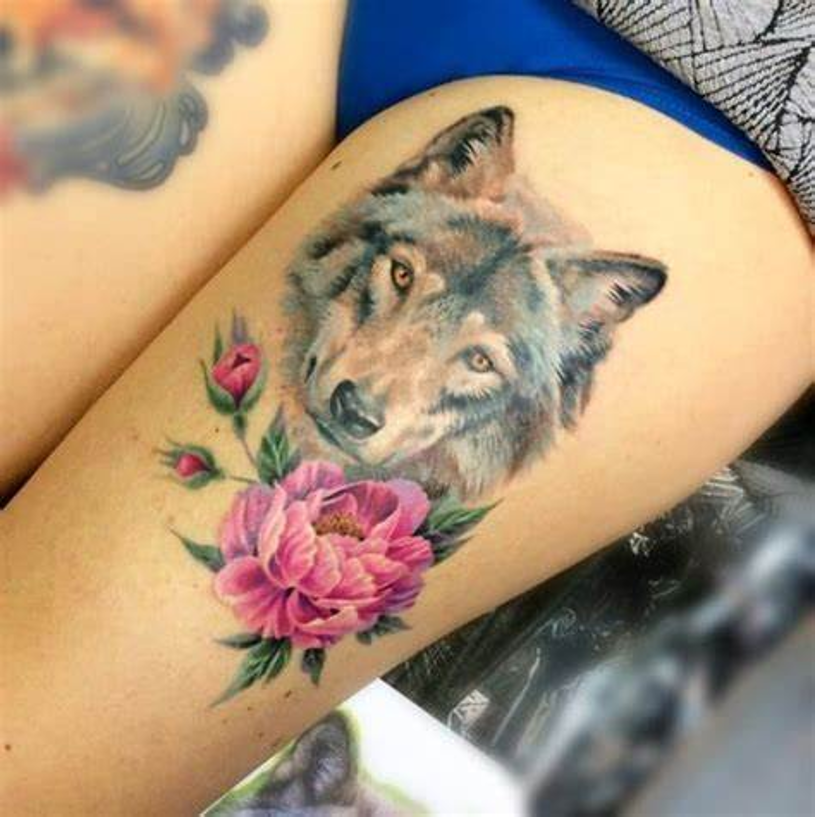 #7 Rose Snake Tattoo
A rose and snake tattoo combines negative and positive aspects of life!
We know that snakes and roses represent a combination of temptation and destruction and that they are frequently done in red, with both the rose and the leaf tips in red to emphasize the dominating presence of love and desire.
The snake is always associated with evil in our society, however, this is not true for all snakes. The majority of snakes are good luck emblems as well as protective deities.
Coupled with roses, it represents temptation, desire, and passion.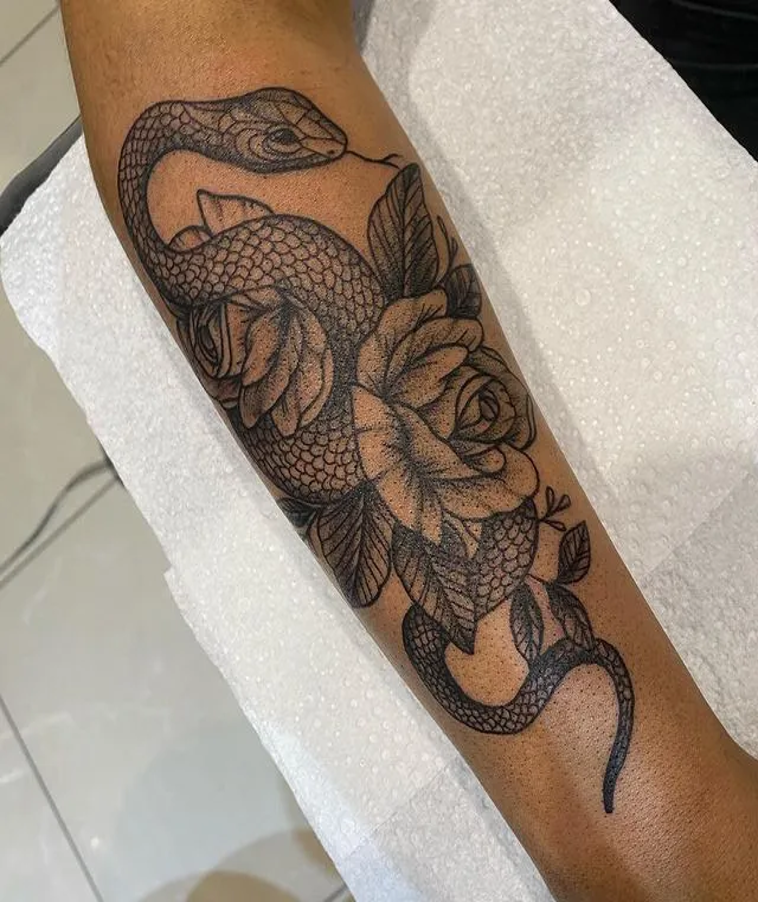 #8 Rose Scorpion Tattoo
Because it can be both frail and robust, the rose represents both strength and beauty. It represents the strength of love that is constantly with us, as well as the sensation of not being alone on this journey known as life.
The scorpion indicates something we should dread but also learn to overcome so that we may enjoy its blessings despite its danger.
The meaning of a scorpion with a rose tattoo is that the person who has it has attempted to find beauty in the face of hardship. It also implies that they have overcome adversity in their lives.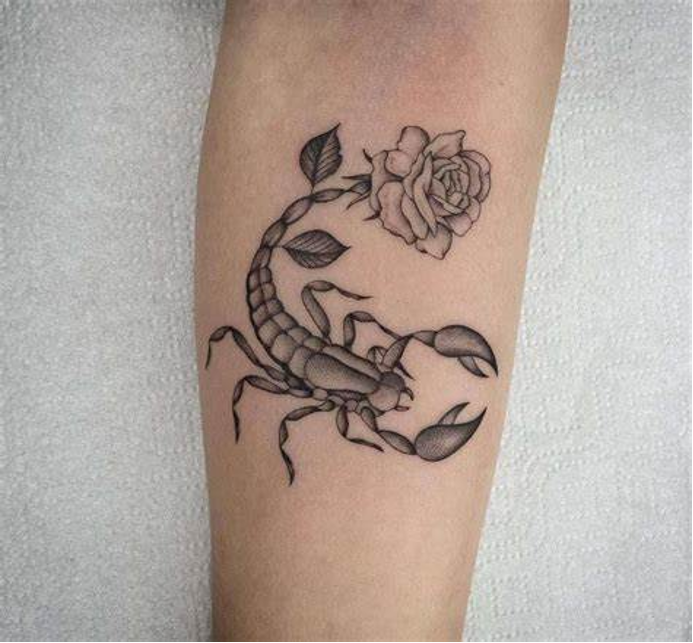 #9 Minimalist Rose Outline - Single Needle Tattoo
Creating the rose tattoo with a fully linked, squiggly line emphasizes the most fundamental characteristics of the flower to create a simple design. To make the tattoo more personal, insert a word in the squiggles of the stem.
To achieve a clear design, this rose tattoo employs basic, clean lines. The tattoo stays current and minimalist by not including any extra lines, dots, or shading. After all, a flower is the purest and simple form of love!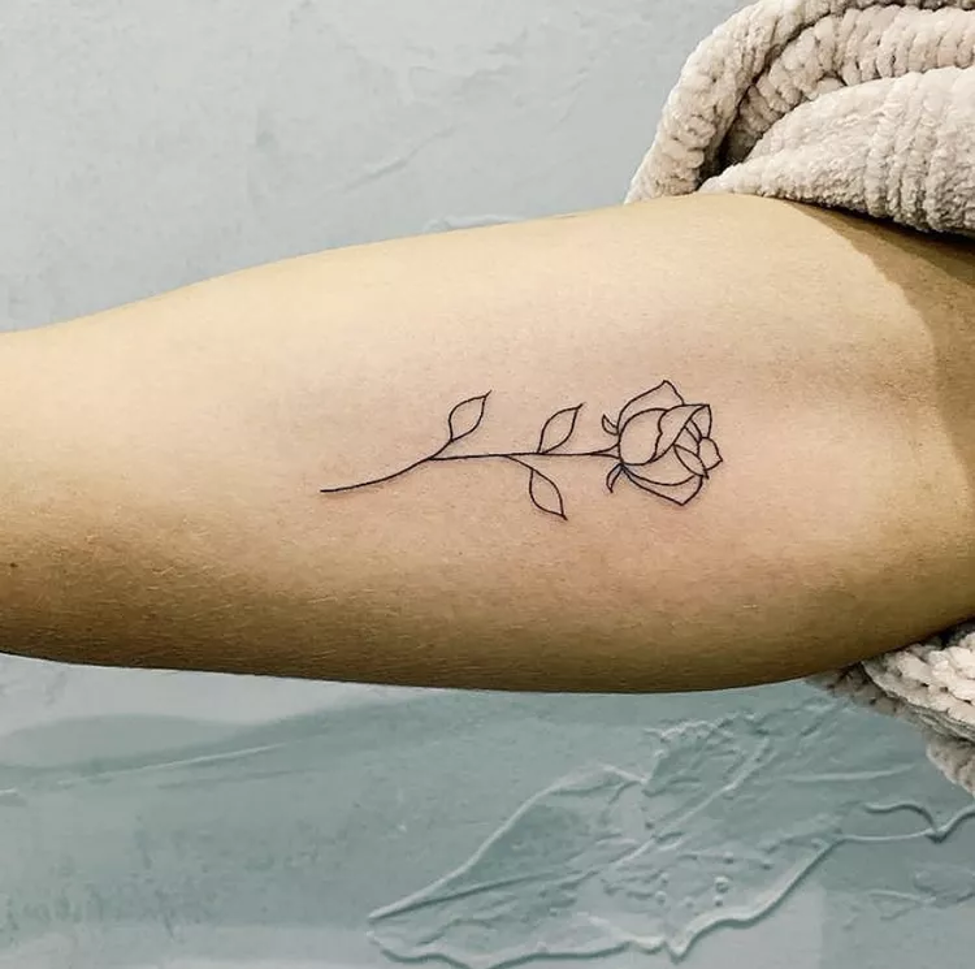 #10 Rose Geometric 3D Tattoo
Because it is quite prevalent in art disciplines to reproduce a rose's beauty, they sought to be fun, but in a more rigorous way, in tattoos. Geometric rose tattoos are a fun, inventive, and one-of-a-kind method to bring the beauty of the flower to human flesh. Of course, it did not lose all of its artistic value; in fact, geometry adds another dimension to it.

#11 Rose Music Note Tattoo
Music is the most universal language that humans share, and what's more romantic than a classic song? You guessed it - a rose.
When artists combine music and roses, they are worshipping their love for both. This passion is truly beautiful to behold.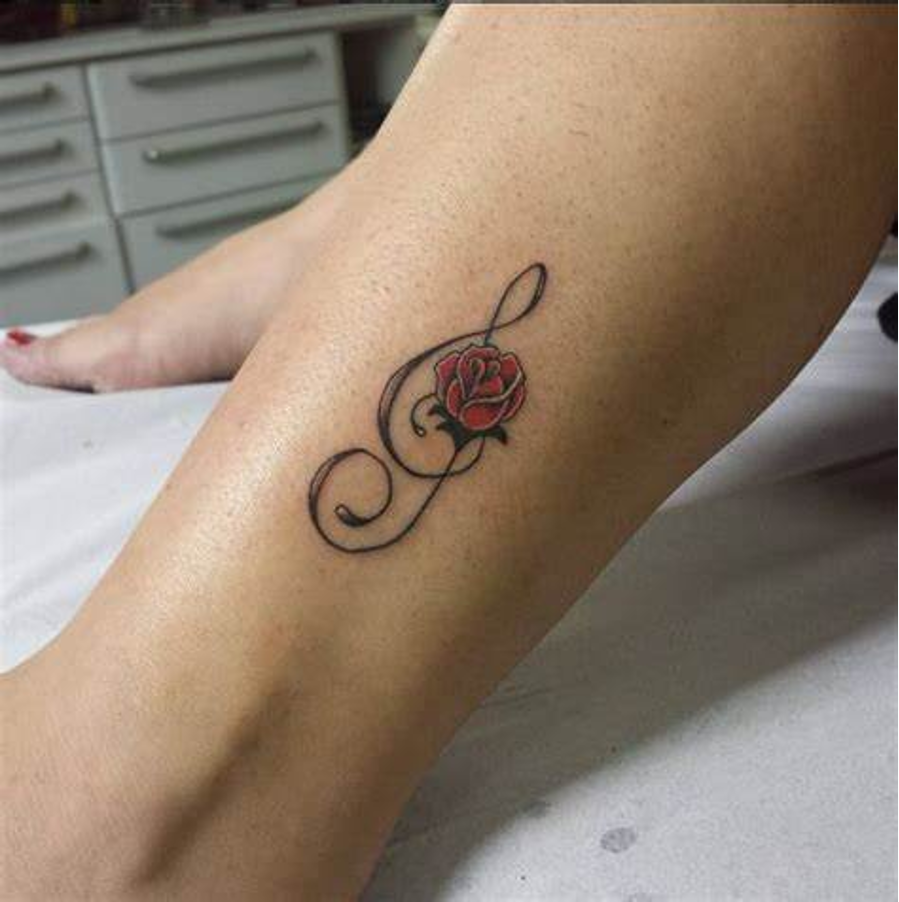 #12 Rose Heart Tattoo
Both men and women like getting tattoos of hearts and flowers. The rose and the heart are both powerful symbols that are known all across the world as love symbols.
Although the pattern is most commonly done in red, some individuals defy convention and choose white, yellow, pink, purple, or even black instead.
Rose-and-heart tattoos include banners, writing, and letters, and they are popular among parents who wish to reflect their children's names, children who want to reflect their parents' names, or even couples who get matching rose-and-heart tattoos.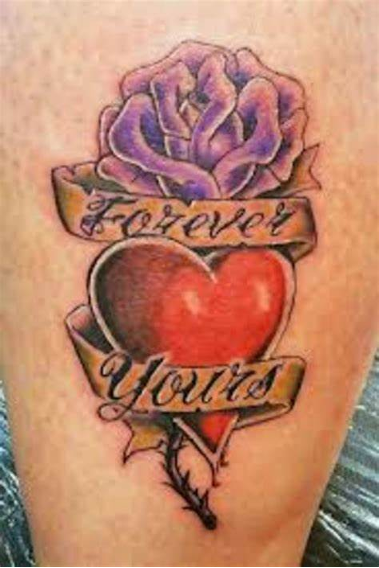 #13 Rose Infinity Tattoo
Just like rose-heart tattoos, rose-infinity tattoos come to celebrate love.
It represents friendship, sisterhood, love, devotion, and loyalty to your lover but also to a passed loved one.
The rose inside represents beauty, and it is surrounded by an infinity sign, which represents how life continues even after death, forever, with no end. This is a lovely and meaningful tattoo for anyone who wishes to remember a loved one who has died.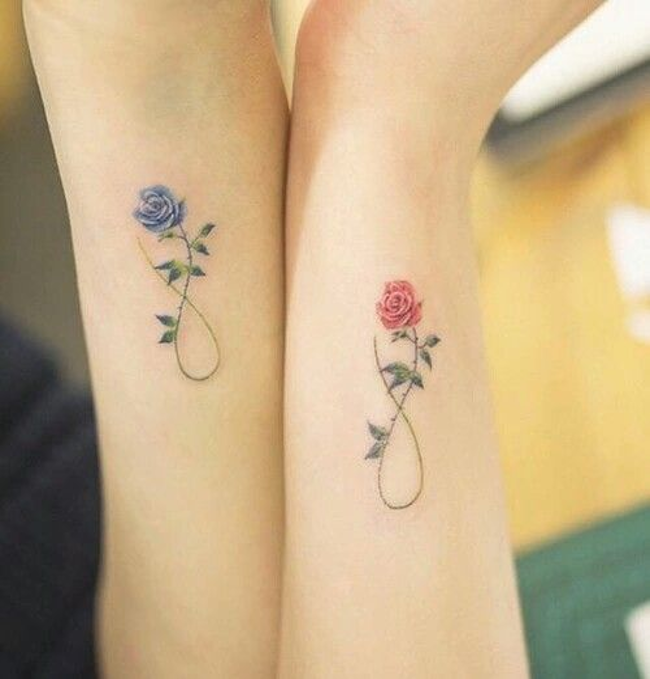 #14 Rose Date Tattoo
To commemorate an important occasion, this rose date tattoo is frequently done in roman letters. Whether it's your child's, parent's, lover's, marriage date, or whatever day is closest to your heart.
It might also be the date your partner or someone you care about died. So, what better way to commemorate that date than with a rose?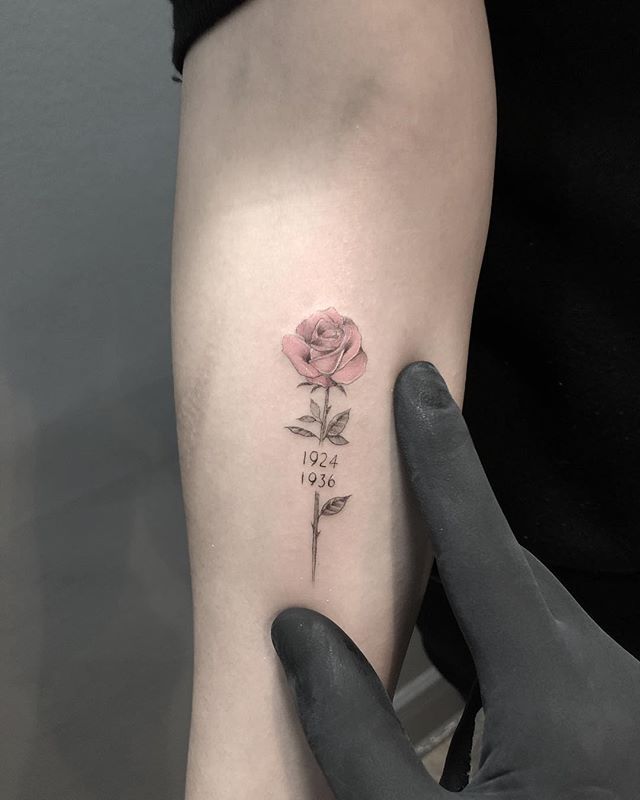 #15 Rose Quote Tattoo
Thousands of designs and placements to choose from! What's your all-time favorite quote? We love that one too! How about tattooing it with a rose for daily motivation and reminders?
This tattoo design will also help you document your battle, your victory, or your strength. You can get it in small sizes too.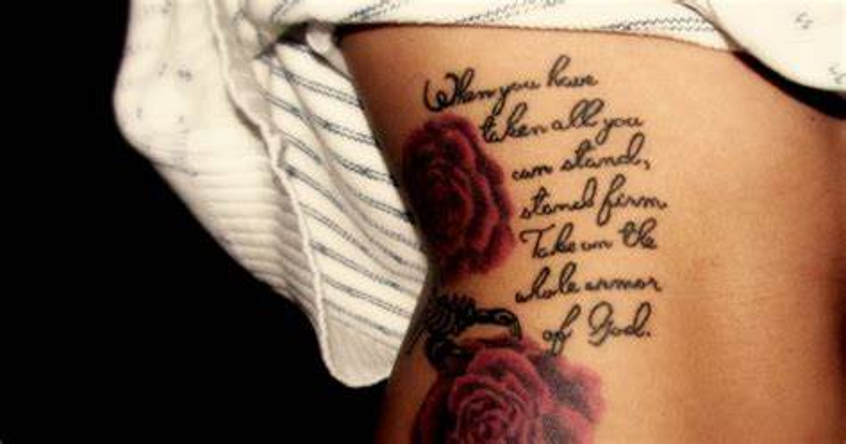 #16 Rose Behind Ear Tattoo
A rose behind the ear tattoo is an excellent alternative if you want a smaller and simpler rose tattoo. This lovely arrangement is so sweet and feminine that it may be paired with an evening gown and stilettos. It exudes "feminine grandeur" and may be worn with a variety of outfits.
If you're a first-timer, you should know that it's a little unpleasant but well worth it!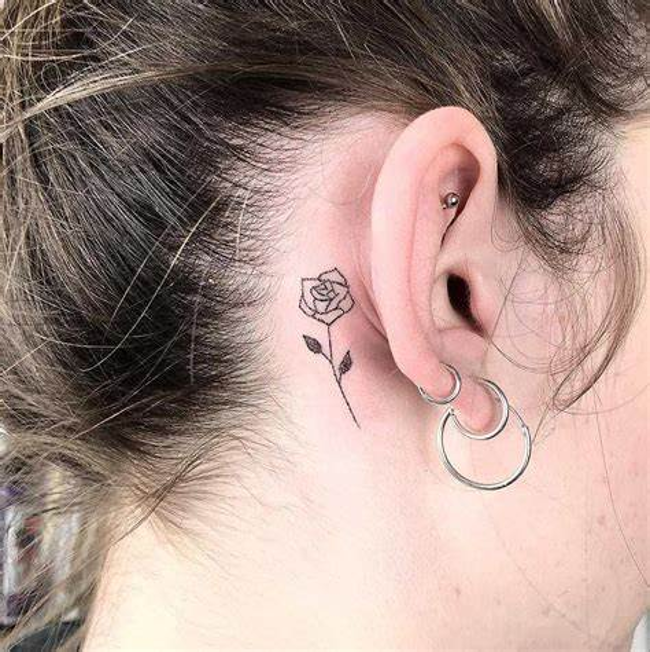 #17 Rose on Finger Tattoo
Another excellent placement for rose tattoos. However, this one is far more obvious.
The key to this vibrant and brilliant design is effective highlighting, which will entice the observer with its positioning.
A rose-themed middle finger tattoo is one-of-a-kind, and a lovely, little rose represents love and affection. If you believe in the unbreakable power of love, this little flower-finger tattoo design on the middle finger will sparkle like a diamond and radiate optimism and happiness.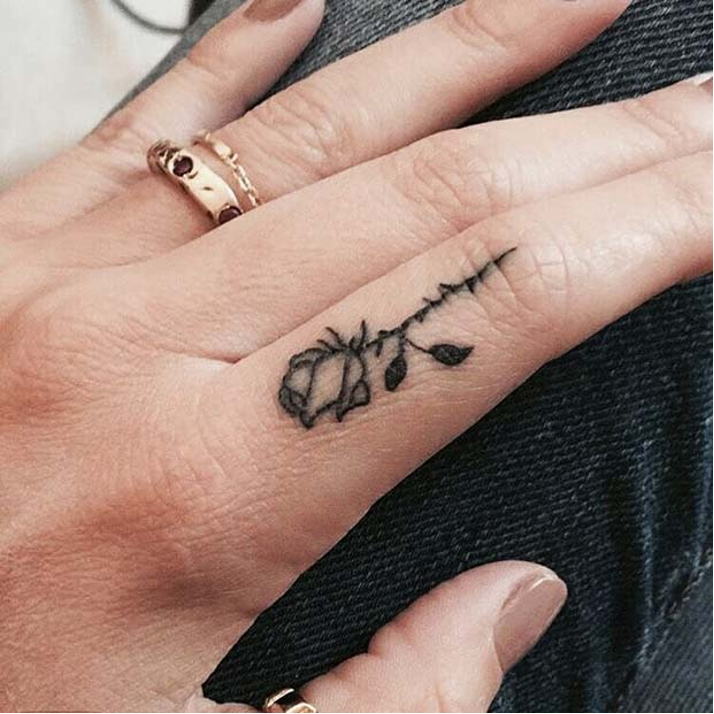 #18 Rose Ankle Tattoo
We love this simple yet stunning rose tattoo location. It has a lovely appearance.
feet. A tattoo on the ankle is an excellent way to add an artistic touch to your feet and a great method as it is very simple, flexible, and fast enough to move from idea to final output.
Ankle tattoos are getting more fashionable as they symbolize strength. Because our blood arteries are mostly concentrated in our ankles, they signify strength because it takes a lot of effort to go through the day, hold down a job, care for children, and cope with other duties. Ankles contain powerful muscles as well, therefore they represent growth since muscles increase. Rose represents power and strength. You get it now…

#19 Rose Ribcage Tattoo
One of the most beautiful placements! This feminine design looks sensual and worth getting. It can be done horizontally or vertically depending on your preference. It can also be done in different colors.
We must say that it is our current favorite because of the flexibility to customize it in different styles.

#20 Rose Tighs Tattoo
Finally, saving the best for last! This crazy choice is for strong confident women who like to do things big and to perfection! It has some of the most beautiful designs and styles to pick from although it's a bit challenging.
Check how amazing the result could be!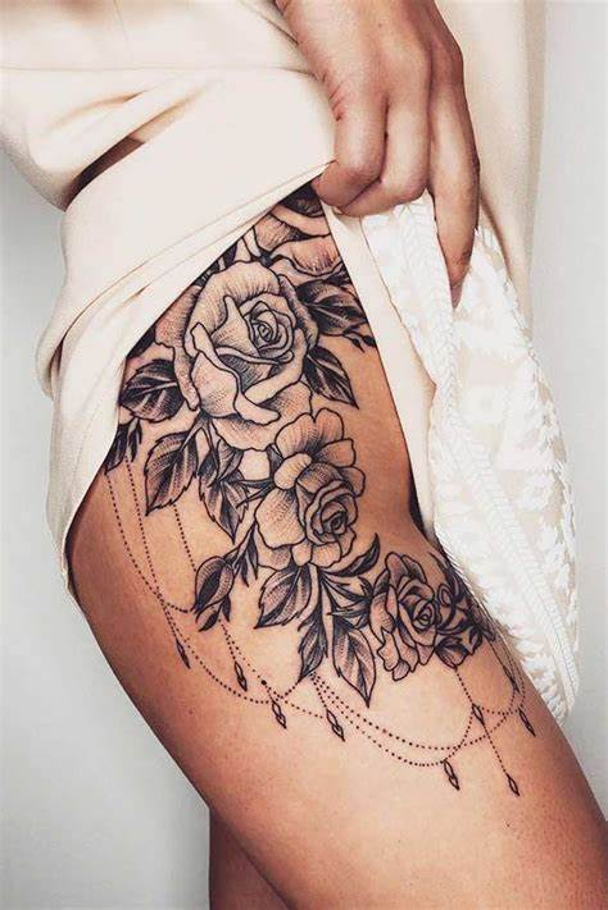 Ready for your Rose Tattoo?
Our talented tattoo artists at https://www.book-ink.co/artists/ would love to work with you. Whether you are looking for a black & grey minimalist rose or an American traditional tattoo-style rose, we've got the best artists even for the most challenging styles!